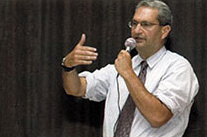 Jack L. Lester
Mr. Lester began his career in the public sector in 1978 by performing public service. He created a full time pre-paid legal service program for students at the State University of New York at Albany. In that capacity, as the first full time lawyer on the Albany Campus, he won a landmark case that gave students the right to vote in their college communities. This Court decision, Auerbach v. Kinley, has had a direct impact upon increasing the college student vote in local, legislative and congressional races throughout New York State.
Jack Lester initiated legal service programs modeled on the Albany program across New York concentrating on the State University and City University of New York. Campuses that benefited included SUNY Purchase, SUNY New Paltz. In the City University System, the Campuses that benefited were Hunter College, Medger Evers College, Borough of Manhattan Community College, City College of the City of New York, Baruch College and LaGuardia Community College.
From 1986-1989, Mr. Lester worked as a prosecutor in the Office of the Queens County District Attorney. He prosecuted drug crimes and helped form the anti-bias unit in the City of New York. The unit prosecuted violent crimes that were motivated by racial, religious, gender or sexual orientation bias. This unit was formed in the aftermath of the infamous Howard Beach racial attack.
Mr. Lester began his own law practice in 1990 and also served as Counsel in the New York State Senate.
His practice has attracted tenant groups and neighborhood associations spanning the entire State of New York, in every borough  of the City of New York and the surrounding suburbs.
Mr. Lester has won landmark decisions in the areas of voting rights, parkland preservation, preventing illegal rent increases and environmental rights for neighborhood associations.
Mr. Lester served as a member of Community Board # 8 in Manhattan's Upper East Side, Chairing the East 86th Street Task Force. He also served as a member of the Judicial Nominating Convention and the Housing Court Advisory Committee, playing a critical role in the selection of Judges in New York City.
Mr. Lester is currently chairman of the Center for Research, Regional Education and Outreach based in SUNY New Paltz. This is an organization analyzing and proposing policy initiatives pertaining to government reform, the environment, land use and the fair administration of justice in the Hudson Valley.
Mr. Lester earned his B.A. from SUNY New Paltz in 1974 and received his J.D. from New York Law School in 1977.